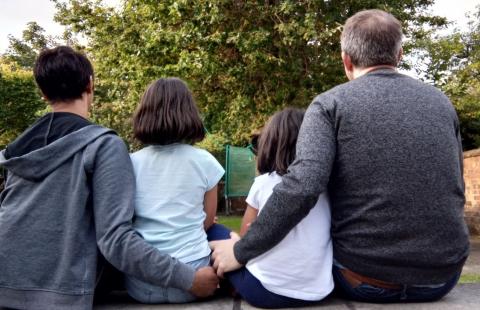 "Just hearing the stories of some of the traumatic early life experiences motivated us even more to adopt a child to offer them a better life."
Amanda and Daniel are an intermixed couple who adopted two dual heritage children.
They have kindly agreed to share their adoption story with us.
There is a growing number of children of mixed ethnic, religious, and cultural backgrounds waiting for adoption.  However, in comparison with other children, it takes much longer (on average 21 months) to place a mixed heritage child with their forever family. We therefore need more adopters like Amanda and Daniel, who followed their dreams to parent and welcomed two beautiful girls into their hearts and their home.  
Amanda and Daniel met whilst working at a university. They got married, bought a house, and enjoyed spending time together and going on holidays. They felt 'fortunate to be able to enjoy a simple but nice life', however something was missing for them. Having a family was always their dream, but due to health issues they were unlikely to have birth children. Daniel said, 'after 15 years together we decided that we wanted to share our lives with a child'. The couple considered their options to become parents and decided that adoption was the best way forward.
As a dual heritage/mixed race couple, combining White British and South Asian backgrounds, Amanda and Daniel adopted two children with backgrounds which are also diverse, mixed, and complex. The couple went on to adopt Sarah first, and then came back a second time to adopt Charlotte. Being able to in some way culturally, visually and emotionally identify with their children, was a definite strength for the couple, however whatever ethnic cultural and religious background adoptive families are from, the most important thing is that they are open and willing to promote all aspects of the children's individual backgrounds. Amanda and Daniel are happy to talk to anyone who like them wishes to consider adopting mixed heritage children and give them opportunities that otherwise they might not have had.  
Reflecting on their adoption journey, Daniel said: 'One of things that stuck with us from the training, was the reasons why children are placed in care. Just hearing the stories about their traumatic early life experiences motivated us even more to adopt a child and to offer them a better life. All in all, I think we can safely come to the conclusion that adopters give the prospect of parenthood a lot more thought than the average person who becomes a parent through 'natural' means.'' 
Amanda and Daniel shared how important the relationship with their social worker has been during the whole process. 'As prospective adopters we had to bare our souls to someone who started off as a total stranger but the social workers we encountered were amazing at building a rapport and making us feel comfortable. They got to know us inside out so they could talk about what we had to offer, how we dealt with difficult situations, how we interacted with other people etc. Further down the line, our social worker's understanding of our personalities helped to guide us through the matching process and to make sure we were matched with the children in line with our skills and strengths'.   
Part of the adoption process involves going to adoption panel and talking about the reason why you want to adopt and what you have learnt about adoption. Amanda and Daniel recall their experience of attending panel: 'obviously, it was nerve racking going to panel the first time, it feels as if these strangers hold your future in their hands, however, the panel members are not meant to trip you up, they just want reassurance that you have fully considered all aspects of adoption and made the right choice for you as well as the child you are about to include in your life. Hearing the panel decision to approve us as adopters and later to approve our matches was fantastic.
As returning adopters, Amanda and Daniel have plenty of experience going through the process twice. 'The first adoption seemed to happen very quickly after approval panel! Literally, a few weeks after the approval panel we were talking about a baby with her social worker, family finder and our social worker! Sarah sounded lovely, she had a beautiful smile and twinkly eyes! We found out as much as possible about her personality and life story, so we would be able to talk to her about her background as she grows older, and we found lots of positives to build upon.'
Meeting the child for the first time can be very intense with lots of mixed emotions and feelings to consider. We asked Amanda and Daniel how this moment felt for them. 'Meeting Sarah for the first time was really special and it's something that we will never forget. She turned around to us, gave us a big smile and shuffled towards us on her knees with her arms outstretched as if to say 'you have come at last''
As Amanda and Daniel adopted a second child, they go onto say: 'Our wait was a lot longer the second time round as we already had Sarah to consider and there were fewer babies available. Her life story was quite similar to Sarah's, and we just knew we would be a perfect fit. We felt that the girls could support and understand each other with their life stories as they grew older. The most amazing moment of meeting Charlotte was introducing Sarah to her new baby sister'.
 Becoming a family, having children to look after and care for, is the main reason adopters come to us and engage with the adoption process. That was the case for Amanda and Daniel, who having gone through the assessment process, realised they could successfully parent two children. Now the girls have been with them for few years and are very settled, we asked Amanda and Daniel what family life was like for them since having children, 'Like any other family, we are busy rushing about before school, in and out to clubs, with toys, shoes and school uniform strewn about our once tidy house. There are the occasional adoption-related issues but more commonly everyday challenges, like Charlotte ruining Sarah's best felt pens, or Sarah bossing Charlotte around a bit too much. Being a parent is the most challenging thing you will do but there is nothing more heart-warming then having family time, watching your child learning and progressing through life. Now that we are experienced parents, we are happy that we have provided a loving home and family to two little girls, as well as supporting them in their education and helping them reach their potential. For these two girls adoption is a part of their story, but it doesn't define them.' 
Adoption Now would like to thank Amanda and Daniel for sharing their heart-warming adoption story.
All names have been changed to protect the identity of the family.
Photos are originals of the family.