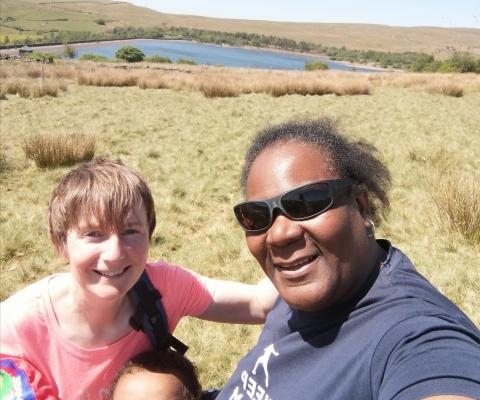 Love, time, commitment and a safe home are some of the most basic but important things that everyone needs to thrive; but for around 60 children in your local area these are just what they are looking for, from a family who can adopt them.
Adopters can come from all walks of life, can be any age, marital status or ethnicity, but there is a real need for more people to come forward and provide loving and stable homes for children who need them.
Heather and Emma are a lovely couple who did such that and adopted two brothers in December 2018, when the boys were just 4 and 5 years old.
Heather recalled when the couple decided to start their adoption journey: "We'd been together for a few years enjoying holidays and socialising with friends but after some time we decided we wanted a family of our own. We looked into adoption after other avenues were unsuccessful because we knew that we could provide a loving and nurturing home for children who didn't have the best start in life."
Heather and Emma did their research and attended information events before deciding to go ahead and start the adoption process with their local adoption agency 'Adoption Now'.
The couple say their assessment process ran smoothly and they found the training to help them understand what children waiting for adoption may have experienced and how to support them was invaluable. They also had a great relationship with their social worker who helped them to take the time to digest all the information and make the best decisions for them.
"We knew really early on that brothers and sisters, and children from different ethnic minority backgrounds can wait longer to be adopted, so being a mixed-heritage couple, who both have siblings, we just knew this was right for us. We were nervous as we got closer to the panel but we felt so joyous and special to be approved as parents!"
Shortly after being approved the couple started looking for their children, attending activity days and looking at profiles. When they first saw the boys they instantly felt a connection and matching began.
"Meeting them for the first time was so memorable, we were so excited and nervous. It didn't take long for the boys to come round and play with us. One of the boys even whispered in my ear that I looked like him and that was so touching."
Now aged 7 and 8 years old the boys are cheeky and lovable with wonderful senses of humour and a curiosity about the world.
Heather said: "The progress the boys have made is rewarding and makes everything worthwhile. Life before them was very different, but we couldn't imagine what it would be like without them. They bring so much joy and love which makes our family complete.
"We would encourage anyone who is thinking of adoption to take the first step and speak to Adoption Now. It can feel intrusive and scary in parts but it's necessary to make sure it's right for everybody involved."
Children across the region are looking for adoptive families now. So if you can offer them a much needed, safe and loving home complete a contact us form or give us a call on 01204 336096.