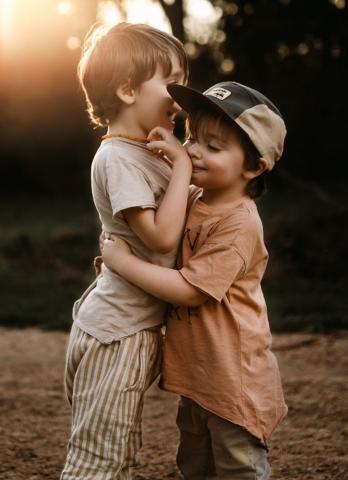 Five-year-old Daniel and his younger brother Michael aged four, are fun little boys that really come alive when they're playing outside together.
The boys share a love of playing out on their bikes, splashing in their paddling pool on summer days and learning new things about the natural world around them. They also love to snuggle up together, under a blanket, to watch TV at the end of a busy day.
Daniel has a great interest in subjects such as space and animals and can blow you away with his knowledge and hundreds of facts about them. He is the quieter of the two boys and likes to play dinosaurs on his own in his bedroom or read his favourite fact-based books.
Michael is an intelligent and inventive little boy who loves to play 'real life/role play' games and can often be found fixing things around the house with his toy toolkit or helping out with the cleaning. He also enjoys dressing his 'Build a bear' and changing all the clothes that are in the bear's wardrobe. Michael is protective of his big brother and will try to help him out if he is getting told off.
Like most little boys their age Daniel and Michael can push the boundaries, but together they are building a strong brotherly relationship and are doing well with their routines in school, nursery and at home.
As with most children waiting for adoption, the boys have had a difficult start in life so they are looking for a two-parent family or a single adopter with a good support network, who can handle the hustle and bustle of family life and implement routines whilst  nurturing their inquisitive personalities and affording them lots of love and attention.
Financial support may be available for prospective adopters considering adopting the brothers so don't be put off or rule yourself out!
If you could consider adopting the brothers talk to us on 01204 336 096.
PLEASE NOTE: – Children's names have been changed and stock photos have been used to protect confidentiality.