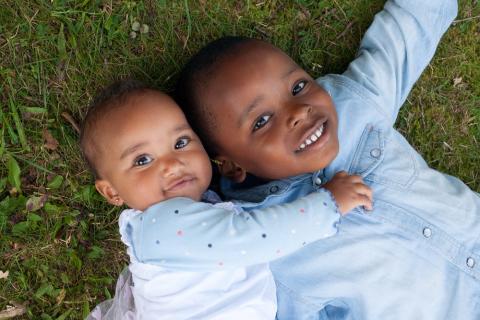 Four-year-old Ayo and Amara, aged one are a beautiful brother and sister with a close and loving bond. They enjoy playing games together and will always look out for each other, making sure they are both safe and happy in everything they do. 
Ayo is described as a charmer with fantastic manners, a great sense of humour and a huge smile for everyone he meets. He is a friendly and sociable little boy who is full of beans; he loves to play outside running, jumping and climbing, he is always on the go.
Peter Rabbit is Ayo's absolute favourite he loves to watch it on television and he has a Peter Rabbit crocheted toy that he takes everywhere with him.
Ayo can often be heard singing all sorts of songs that he's learnt at nursery - he is not shy of sharing his lovely voice.
Amara is a gorgeous little pocket rocket who knows exactly what she wants and isn't afraid to go and get it. She's a confident little girl who likes to be independent and is loving learning new things every day.
Amara looks up to her big brother and is more than happy to play with him, especially when she gets to knock down the towers he builds, this always makes her giggle.
Playing in water is Amara's absolute favourite, wherever there is water you'll find Amara, she just loves getting wet!
Like her brother she loves to sing nursery rhymes especially 'Row, row, row your boat' and 'Barber Shop' because they have dancing actions.
Both Ayo and Amara are loving and affectionate children who love cuddles.
Like most children awaiting adoption, Ayo and Amara have had a difficult start in life, but despite this they are continuing to come on leaps and bounds. They are healthy and happy children who are now looking for parents who can guide them to thrive and reach their true potential.
The children come from a black African heritage and need parents who can help them to embrace their heritage, understand their identities and learn about their cultures.
Financial support may be available for prospective adopters considering adopting the siblings so don't be put off or rule yourself out!
If you could consider adopting Ayo and Amara talk to us on 01204 336 096.