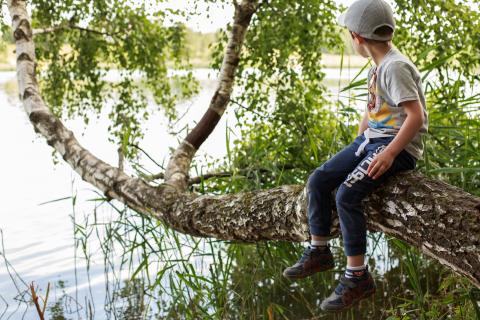 Oliver is a funny, bright and loving seven-year-old who is looking for a family to share his love of the outdoors.
Oliver is in his element when playing outside, he has a real sense of adventure. He loves gardening, digging for insects and going for walks, only stopping to investigate interesting objects along his path. He really enjoys riding his bike to adventure playgrounds and he isn't afraid to try out all the equipment.
It doesn't take long for you to fall in love with Oliver's cheeky charms and interesting conversation. He has a broad, Lancashire accent and will ask questions like: "Did you know the moon is cold? You need lots of oxygen and to wear special gloves and a helmet. Do you think if you were a really good jumper like me you'd be able to jump from the moon down to earth?"
For a little boy his age, Oliver is very bright; he really enjoys learning and can spend hours asking questions about how the world works. His teachers say he is doing brilliantly in all his lessons, but he isn't a fan of music.
Oliver is very proud to show off his achievements and recently made a space buggy in design technology, fully-fitted with a satellite, so people can talk to the driver. His recent school report was excellent, and he wished he could have stars all the way through it. It is clear that Oliver really tries hard and can achieve anything he sets his mind to. He says when he grows up he wants to be a vet.
Oliver's favourite food is curry with naan bread and rice, he says it is well nice, but his other favourite is a little on the strange side; he said he once ate fisher fingers with custard, and though it was really good. He would like his new family to cook that for him again.
Oliver's other loves are Dr Who and Harry Potter and he has a big collection of their merchandise. He particularly likes his Gryffindor robes and wand, and knows all the spells from Expelliarmus to Alohamora, which unlocks doors. He's definitely no muggle when it comes to the wizarding world and has watched all the films.
Like most children waiting for adoption, Oliver has had a difficult start in life so he's looking for a family who can nurture his lovely personality and interests whilst providing routine, structure and lots of love and attention.
Financial support may be available for prospective adopters considering adopting Oliver so don't be put off or rule yourself out!
If you could consider adopting Oliver talk to us on 01204 336 096
PLEASE NOTE: – Child's name has been changed and stock photos have been used to protect confidentiality.