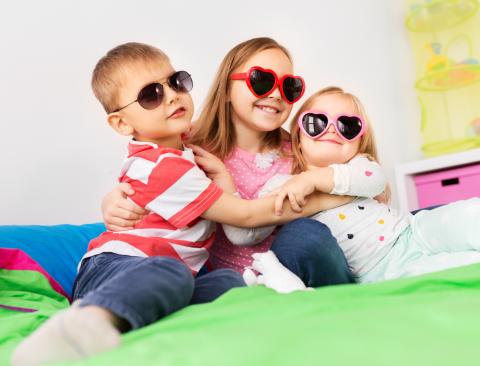 Jade, Harry and Jessica are an adorable, fun and lively trio who are waiting for a family to adopt them.
Jade (age six), Harry (age four) and Jessica (age two) have a lovely bond; they'll often play 'Hidey Boo' and their favourite wiggly worm hoopla game together.
Jade and Harry are particularly close, whatever one is doing the other wants to do, so they're always copying each other, even needing the toilet at the same time or asking the same question one after another. Their little sister Jessica gets very excited when they come home from school and nursery, so they can all play together.
Jade is a happy, chatty, inquisitive little girl and the caring big sister of the group; she'll often help her brother and sister with things like doing their buttons up. Her favourite toys are her baby dolls and prams and she loves pushing them around in the garden. She says when she grows up she wants to be a teacher or a mummy.
Harry is a warm and loving little boy who enjoys cuddles. He likes playing with cars, dinosaurs and colouring in, but his absolute favourite is Thomas the Tank Engine. Harry loves television and would watch it all day if he was allowed, particularly Paw Patrol and Thomas the Tank Engine, and he will sing along to the songs.
Jessica is a confident little tom-boy who is full of beans and always happy to put on a show. She has lots of energy and loves to run around inside and outside. Her favourite game is playing dollies with her brother and sister and she also loves music, especially Frozen which she sings along too.
Together their favourite meal is Spaghetti Bolognese with garlic bread and their favourite time of the day is sitting together watching CBeebie's bedtime hour. They love going to the park and will try out all the apparatus. They're also happy to pet any dogs they see along the way.
The children are described as a pleasure to look after. They have beautiful manners and are eager to learn.
The trio are looking for a two-parent family who can handle the hustle and bustle of family life. Financial support may be available for prospective adopters considering adopting the siblings so don't be put off or rule yourself out!
If you could consider adopting Jade, Harry and Jessica talk to us on 01204 336 096.
PLEASE NOTE: – Children's names have been changed and stock photos have been used to protect confidentiality.