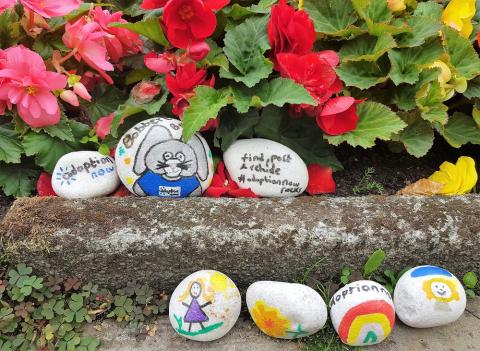 Here at Adoption Now our children and staff have been decorating rocks and hiding them around the North West for families to find. Each stone, rock or pebble has a unique and beautiful design on the front and instructions to 'Find, post & re-hide for #AdoptionNowRocks' on the back.
The rocks are being hidden in parks, nature reserves and town centres to name a few, in fact just about anywhere where people go to have fun and enjoy fresh air. 
If you find an Adoption Now Rock we want to know! So share a photo with us on social media and let us know where you found it. Then you can re-hide it to let someone else join in the fun!
We're even wondering how far our rocks can travel, so if you're going on a holiday or day trip why not take one with you?! You can even decorate some rocks for us if you'd like, just write #AdoptionNowRocks on the back and hide them wherever you like.
Follow us on Twitter and Facebook for hints on where our rocks are hidden and to share your 'find' photos with us using #AdoptionNowRocks
Happy hunting everyone!