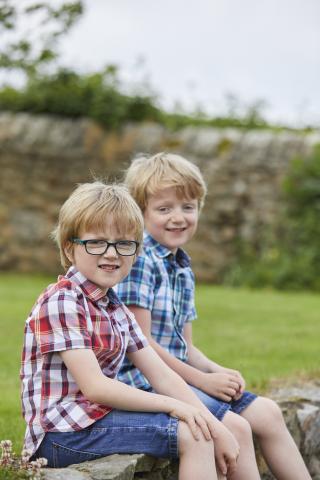 Carl and his civil partner Peter from Bolton adopted brothers Joel, seven and Alfie, six.
Carl and Peter have been together for 13 years and had thought about adoption a number of times.
Carl said: "It was something we had discussed, but we kept thinking we were too old or too busy with work. Then our circumstances changed. Peter took early retirement from teaching and we had more time.
"We had our civil partnership and we travelled for a while, but we felt that we could do more.
"We had seen things in the press about same sex couples adopting and people closer to our age and we thought, let's do this."
Carl and Peter began the process of adopting and at first they thought that they wouldn't be wanted.
"I guess we had some doubts because we are a same sex couple and a bit older, but we heard back really quickly."
Within a few months of starting the adoption process half brothers Joel and Alfie were identified as a good match.
"We got information from everywhere about them. It was very thorough. The social worker, Joel's teacher and their foster carer all helped us with this.
"When we finally met them at their foster carers' house, they came flying out the door and into our arms
"We didn't expect it at all."
Once the boys were placed with Carl and Peter they took each day step by step.
"We were lucky as we had a lot of time together. Peter wasn't working and I was given adoption leave, so we had plenty of time to take things easy and get to know each other.
"The boys fell into a routine and were good at going to sleep. We made some changes, like giving them baths in the evening and that all went well.
"We spent the first few weeks going to the park, they rode their bikes and we took them to the woods a lot. We built dens and had picnics and threw stones into the river."
The first few months were not without challenges and Carl and Peter have been on a steep learning curve. Alfie regressed, which meant that he stopped dressing and feeding himself and began using baby language.
Carl said: "We had heard about regression, but we had no experience of it. We were supported by our social worker who explained to us that we should just go with it.
"Our family gave us some baby toys and we started dressing and feeding Alfie as if he was a toddler again. Sure enough it passed."
The boys are now more settled and have swimming lessons. Joel is at school and he loves choir and computer club.
Carl said: "They are happy that they have two Dads. They explain that to people and they are comfortable with it. We had a bit of upset around Mother's Day as someone said to Joel "You don't have a Mum", but he let them know that he has two Dads instead.
"We are a family and I guess I just can't remember a time when they weren't here. We have a home and we are on a great adventure."