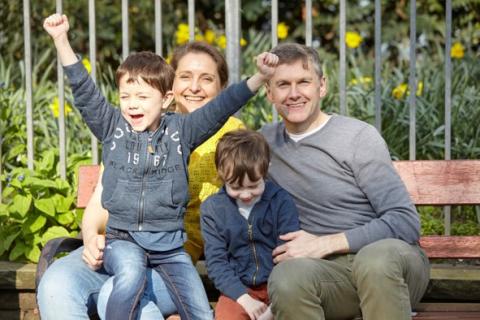 Charlotte and David adopted their children, two years ago after finding that they were unable to conceive. After lots of research the couple decided adoption was the best way to build the family they wanted and were supported by Adoption Now throughout the process to be approved as adopters.  
Charlotte (37) says "Initially, adoption was a means for us to become a family when having children biologically appeared to not be an option, but, it has become so much more to us. As we progressed on our journey, we realised that it's not about us, but all about the child(ren). We began the adoption process thinking we wanted to adopt one child aged 0-3 but the more we read and the more we spoke to other adopters, social workers and adopted children now grown up, the stronger we felt about adopting a sibling group and keeping a child that may have lost 'everything', with one of the greatest gifts we could give them: a forever home with their sibling/s."
Charlotte and David found adopting their two boys brought unique benefits to their family. From the satisfaction of keeping children with a shared past together to knowing the children will benefit from mutual support based on a shared understanding of the past.
Charlotte reflects "Adopting a sibling group has brought us both so much joy and happiness. Our children have such a close bond and seeing them share special moments not just with us, but also with each other makes all our experiences magnify tenfold. They giggle together, laugh together and experience things for the first time together. They have a link to their past with each other, they can share memories (real or learnt) and they provide a 'biological link' that some children may miss, being adopted. They also have the comfort of knowing that someone else understands exactly what they have gone through, and they share in each other's sadness which strengthens their bond. Above all, they are each other's 'constant', in a world full of change and uncertainty. Seeing our children cuddle and kiss each other and tell each other they love them, without encouragement or prompting, melts our hearts."
As Charlotte and David settle with their children and enjoy their new family life Charlotte considers what adoption has taught them. "We've learnt we were capable of loving children we'd never met and have learnt to have open hearts and accept the vulnerability that comes with it, having faith in believing that your family is meant to be. Adopting children is a bit like saying, "YES" and jumping in with both feet…often before even testing the water, but we know that should we adopt again in the future, a sibling group would be the greatest blessing we could wish for!"