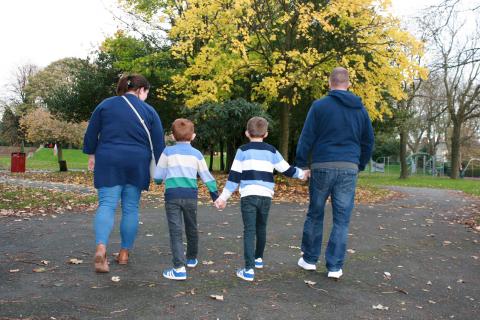 Adoption gave me my dream family
Growing up as an only child, Nicola Lane always dreamed about having a big family.
She had always been interested in the idea of adoption – so when she and her husband found they couldn't have children of their own, they decided to look into it further.
Nicola, 31, from Tameside, is now a proud mum to two young brothers, aged eight and six, and has the loving family she always wished for.
She said: "Adoption is a long and daunting journey but I would encourage anyone thinking about it to contact Adoption Now and find out more. You get so much support and training and ultimately it makes dreams come true for everyone involved."
Nicola told how she first started looking into adoption in 2012.
She said: "Applying to adopt is a long and sometimes intrusive process but that's how it should be to ensure this is the right thing for you. It's also only fair on the children, who have already had lots of upheaval and disruption in their young lives and need stability. However you get a lot of support through the process and beyond and it really helps to prepare you, helping you to understand why you want to adopt and how you will cope with any challenges. My husband initially had reservations about adoption but the application process actually made him realise this was right for us rather than putting him off."
The couple first saw their two boys at an adoption 'activity day' in July 2013, where prospective adopters get a chance to meet and play with children waiting for adoption.
Nicola said: "Although I wasn't sure I was comfortable with the idea of this we agreed to give it a go. We had always wanted to adopt siblings and I thought I wanted to adopt girls – this is common and all the adopters were stood around the few girls at the event as if they were the glittering prize.
"Then two little boys dressed as Winnie the Pooh and Tigger came whizzing past us and we ended up playing with them for ages. Something about them just felt right."
The couple expressed an interest in the two brothers, then aged four and two, and the next stage in the matching process began. During this period they were given more information on the boys - including their backgrounds, likes and dislikes and photographs.
The adoption was approved by a panel two months later and the introduction process started with daily visits – first at the boys' foster home and then later at the couple's home. Ten days later the boys moved in for good.
Nicola said: "The night before we picked them up to bring them home was both exciting and daunting. Picking them up was emotional on so many counts – you feel like you are taking them away from everything they have known and loved but also you know this is the right thing for them in the long term and the start of a new life for all of us.
"They were both different in how they settled - one kicked his shoes off and settled in straight away while the other took a little longer. There were ups and downs but that's family life and we very quickly began to fit together."
Nicola describes the golden moment when she knew she finally had the family she had always dreamed about: "There was one day when we were in the Lake District on our first family holiday together and one of them said 'this is the best day of my life mummy'. We had also just recently had the court adoption order come through and this felt like the icing on the cake – they were ours, they were happy and we could all finally relax."
She added: "It's really heartwarming when you start seeing them pick up your little traits – whether it's the way you walk or the things you say. We see aspects of our own personalities in both of them too. It's the old nature versus nurture argument but there's an undeniable sense of belonging between us all."
Nicola is open with both boys about the fact they are adopted and keeps in touch with their birth parents through 'letterbox contact'.
She said: "We write to their birth parents once a year and I think this is really important for everyone involved. I think it's crucial that you are open about their adoption – it's part of their life story. Some adoptive parents are wary of this but it's better for it to feel normal to the children rather than it be another bombshell for them to face when they are older."
Since adopting, Nicola has helped to set up and run Forever Families, a registered charity which provides activities and support for parents and children involved in adoption. In fact, adoption suits her so well that she is hoping to do it again.
"I definitely want to adopt at least another child. I always did want a big family and we can make a difference to another child's life. The boys are really excited about it too."