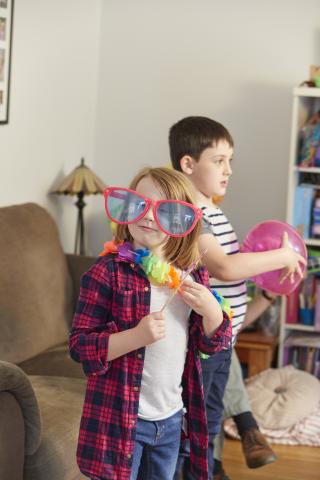 Zoe, and Simon from Bolton, adopted Sally, eight and Tom six, nearly two and a half years ago.
The couple had tried to conceive naturally, but were unsuccessful. Zoe said: "We weren't able to have biological children and we had a strong instinct to adopt. It felt right for us from the beginning. We had known foster parents and people who have been adopted - because of this we also knew the value of keeping siblings together.
"It started with Simon making a phone call one day whilst he was walking around Bolton town centre. I don't think he realised it would be quite a lengthy conversation."
Within a couple of months Zoe and Simon were on a three-day course, where they learnt about adopting children and met parents who had adopted. "We cried a lot," Zoe said. "It is a very emotional thing and I think it was a bit of an eye opener."
Zoe and Simon knew it was the right thing for them to do and they decided that in order to accommodate siblings they needed to build an extension. "We moved in with relatives so we could create another bedroom," Zoe said.
"Everything happened very quickly. Six months after taking part in the course our social worker had found children, which she thought were a good match.
"She sent us a picture of a brother and sister and straight away we knew they were for us. I'm a drama teacher and they loved singing and dancing."
Zoe and Simon were then invited to an adoption event where they were given the opportunity to meet Sally and Tom. "We were nervous. It was very difficult as you need to be calm and give them space. They were lovely. They were dressed up as a princess and a pirate. "We had the chance to talk to them - it was lovely to hear their voices."
With the matching process underway, Zoe and Simon went to visit the children at the foster home "Sally said 'mummy and daddy are here,' which got to me straight away. She was so accepting and ready to become a family," Zoe said.
"As Sally was seven there was some consideration that she might need to be separated from her brother to increase his chances of adoption. Older children are less likely to be adopted. We were so happy to take them both." She added: "We had decorated the new bedroom for them and put pictures of them on the wall and bought a few teddies, so they felt at home.
"It was a whirlwind really. The children made the transition really easily and were great. "Tom was a bit poorly at first and he didn't sleep well. His speech has been slow but he is seeing a speech therapist and he is really coming on. It is great to see them thrive.
"When he started his new school he ran in. They've both made loads of friends now and Tom goes to kickboxing and Sally loves gymnastics and athletics.
"We've already got so many memories and photographs and videos of the things we've enjoyed as a family. The first time we went to a hotel the children had cookies with their names on and loved the fact that they could go swimming at any time. When we went to Spain they packed their own suitcases and were so excited to be going on a plane.
"They've become a really important part of our extended family and they are proud of having cousins and love family parties. We are on a wonderful journey and they love life."